Two great hikes at Lake Bled
Lake Bled is stunning from every angle, but it is especially magical when you view it from above. Did you know that you can hike 2 great trails that both end at a stunning viewpoint over Lake Bled? Ojstrica and Mala Osojnica are two relatively easy trails and also very popular. At the top you will be rewarded with a view that will leave you more breathless than the hike itself.
While pretty much any spot around Lake Bled will bless you with breathtaking views, to get both the island church and the castle all backed by glorious mountain peaks, you need to head to the western side, near to Zaka Campsite. However, should you want to get above and really be blown away, then you'll have to don your hiking shoes and trek up into the hills behind this campsite. There are two great trails, each of which will reward you with a view of Lake Bled that will make the hike well worthwhile.
Sadly, there isn't a whole lot of choice when it comes to parking this side of Bled. The closest car park is next to Zaka Campsite. However, this is 3 euros per hour (24/7), so a better option is to drive up the hill to the train station and park at the car park there. It's 5 euros for the whole day. Don't be tempted to park by the road, like some do. The traffic wardens patrol this route every day, even early on Sundays.
Both trails start next to Zaka Campsite. The shorter of the two is Ojstrica, which takes roughly 20 minutes, maybe a little longer depending on your level of fitness. While it's not overly demanding, it's not a hike to be taken lightly, or in flip flops. Much of the path is strewn with loose rocks, and a couple of sections are quite steep, but short.
The hike starts just beside the Lake Bled campsite. From the little beach beside the lake, walk to the right and across the road you'll see a small signpost directing you up into the forest. Follow this narrow trail until you come out onto a wider forest track. Turn right and head up this track.
After about 15 minutes you'll come to a signpost. One points you right to Ojstrica, the other to Velika Osojnica. Take the right turn. From here the trail zig zags up to a rocky outcrop overlooking the lake.
This is the steepest and hardest part. You have to clamber up some big rocks, but only for a very short distance. There is now a short via ferrata to help you get up this part. Kids can do it with your help.
At the top you'll find yourself on a rocky ledge where a bench sits. This is probably the most popular viewpoint, as it's the easiest, so expect to share this ledge with lots of others, even if you hike up before sunrise.
There is no safety fence here, and the big rocky area at the back ends with a sheer drop down to the campsite below. So you might want to keep you kids in view.
This is a well known hike and classic postcard view of Lake Bled, and also a selfie hotspot. If you search Google images for Ojstrica you'll likely be inundated with selfies of people sitting on or standing by the bench, or standing on a rock overlooking the lake and island church. If you are a serious photographer like me, then you'll have a job setting up your tripod. There are basically two places you can do it, one down below the bench, and another on a rock beside the bench. If you plan to shoot the sunrise, then be sure to get up very early. Ideally, hike up with a torch in the dark to ensure you get that spot.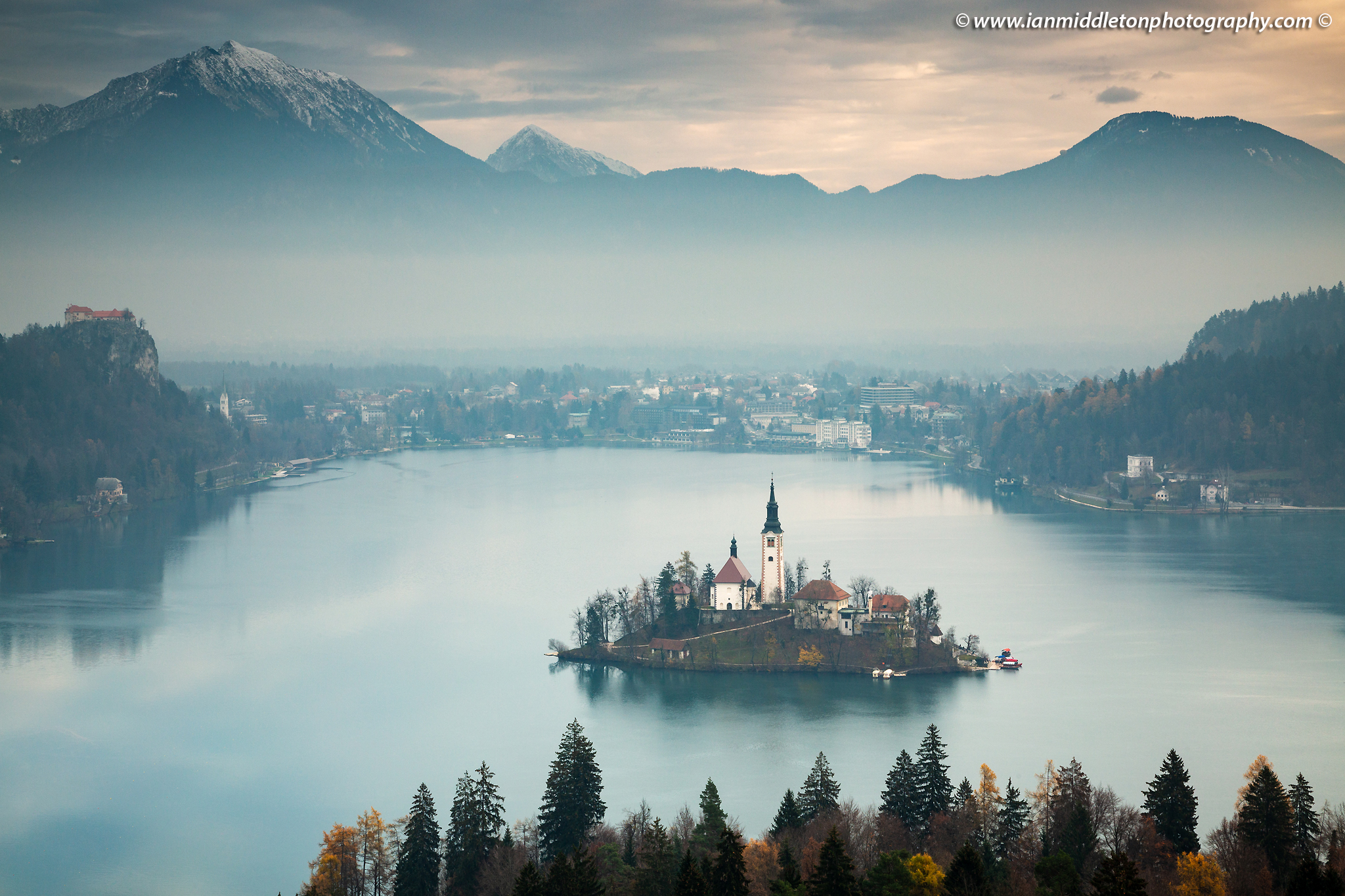 Mala Osojnica (20 or 40 mins)
Back down at the sign where you turned off right, the sign pointing straight on to Velika Osojnica will also take you to Mala Osojnica. There is no view from Velika Osojnica, it's just a clearing on the hilltop surrounded by forest. However, the hike to Mala Osojnica offers a stunningly clear view down across the whole of Lake bled and a panoramic view of all the surroundings.
It's another 20 minutes from this sign, so a total of 40 minutes from the bottom. If you plan to visit both Ojstrica and Mala Osojnica then this is the best route to take. The route from here goes through the forest, so there is no view until you get to Mala Osojnica. It can also be tricky after a lot of rain because it follows a path that turns into a stream as water runs off the hillsides.
After another 10 or 15 minutes you'll come to another clearing with a bench and sign. Turn left here for Mala Osojnica, or carry straight on for Velika Osojnica.
An alternative trail for Mala Osojnica
Alternatively, you can hike another trail that leads from the lakeside a bit further around. From here it takes about 20 minutes, a bit longer depending on your fitness level and if you have kids. From Zaka walk beside Lake Bled and carry on past the start of the previous hike I mentioned, and follow the road until you see the trailhead shown in the photo and map above. This is a dirt road, but don't be tempted to drive up and park. Traffic wardens patrol this and will slap a fine on any car parked along there, even on a Sunday morning.
Walk up this road about 100 metres and you'll see a turning left, but a sign for Ojstrica pointing you right. This road will actually lead you up to join the other trail to Ojstrica, then through the forest to Mala Osojnica. When you see that sign, ignore it and turn right. This is the trail that will take you up the hillside. A little further past an old house you'll see more signs directing the right way.
This trail is steeper and also narrower. Some sections can be a bit tricky for kids, so they'll need your help. On one section, the trail is really narrow and a part of it has fallen away. A metal rope has been fixed for you to hold on to, but be extra careful with your kids here.
The other tricky section is a steep flight of narrow metal stairs. This can be especially treacherous when wet.
On the upside, this is a much nicer hike and, as it climbs the side of the hill, is more open and sunny (the other is in the shade of the forest) and also provides great views of the lake pretty much all the way up.
The word breathtaking just doesn't do it justice. This view is higher than Ojstrica and is just truly awe-inspiring. It's from a cliff edge, so there is a protective fence here, and three benches. It can feel a bit colder here because it's backed by the forest. Therefore this section is in shade and also a bit of a wind trap, so be sure to have an extra layer or a windcheater with you. After you've sweated your way up that hill, the wind feels a lot chillier.
It can be tricky to get a selfie here in the afternoon when it's sunny, because the section where you stand goes in the shade as the sun moves west. Therefore, you get a huge difference in contrast between where you are standing in the shade, and the sunny lake behind you. Try to take your selfie when the sun goes behind a cloud, or hike up earlier in the day.
For photos of the lake however, fire away. There is a little more space here for a tripod, or several tripods actually. This is a great place for sunrise. In the winter the sun rises off to the right, casting beautiful side light on the island and lighting the castle from the front. In the summer the sun rises behind the mountains behind.
From here the island church, castle and Mount Stol, the highest peak in the Karavanke Alps are in perfect alignment.
You won't want to come down.
At the end of this page you can watch several of my YouTube videos where I show you each trail.
Enjoy your hike.